Epson TM-C3400 Inks
Tri-color ink cartridge for Epson TM-C3400
The Epson TM-C3400 has a single (C, M, Y) pigment-based ink cartridge which makes for simple inventory that supports a variety of media sizes and types. With fast print speeds and Ethernet or USB interfaces, this is a robust and compactly designed printer for high-quality commercial color inkjet printing.
The Epson TM-C3400 printer
The TM-C3400 is one of Epson's high performance and innovative inkjet label printers for on-demand color printing for business use. This printer is ideal for a broad range of applications including: inventory, pharmacy, logistics, health care, travel, retail, transportation, and many more.
Printer technology of the Epson TM-C3400 printer
The TM-C3400 is economical and fast. It can print up to 3.7 inches/sec so you'll never need to keep customers waiting. With one inkjet cartridge you will be able to print as many as 7,5000 labels. Also because of the integrated continuous paper or auto cutter trim rolls, you will avoid paper wastage. And, you won't be required to store different label colors and sizes.
As with most of Epson's label printers, the TM-C3400 is durable and versatile. It can be used to print wristbands, print labels, continuous paper, tickets. And it can do it on different media with print widths starting from 1" to 4.25".
Another beneficial feature of Epson's printers is the Piezo™ print technology. This doesn't need the heating of components to work (unlike their competitors). This is a benefit because it significantly reduces your power consumption.
Inks for the Epson TM-C3400 printer
Epson's patented DURABrite Ultra technology is used for the Epson TM-C3400 printer. This particular type is a three-color composite pigment ink cartridge. The advantage of pigment-based inks is that they provide durability of images, barcodes, texts, and graphics.
This ink does resist fading, water, smudging as well as most other liquids. DURABrite Ultra inks can also survive the most demanding of storage conditions as well as being suitable for data critical applications such as logistics and laboratories.
Superior image and ink quality
The biggest business advantage of the Epson TM-C3400 is that you no longer need to preprint and store hundreds of labels. Instead, all you need to do is print what you need, as you need it, which helps to minimize waste that can come with bulk preprinting.
Where laser printers use a whole sheet to print a few labels, the TM-C3400 allows you to print one label at a time, further minimizing waste. This allows you to print one or many labels as needed.
Epson printers are designed for commercial environments with high turnovers. For reliability and quality printer labels that come with ease-of-use features, you want the TM-C3400. These features include black mark and gap sensors, paper-end sensors for roll stock and auto cutter.
With Epson's patented MicroPiezo® inkjet technology, you can rest assured you will receive clear, easy-to-read, crisp barcodes, graphics and texts.
ForeFront Label Solutions offers the single tri-color ink cartridge to produce the best label printing results.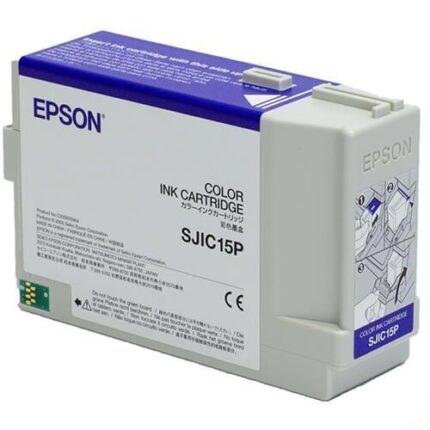 High-yield color ink cartridge for Epson TM-C3400 printer, SJIC15P Epson high-yield color ink cartridge for the TM-C3400 ColorWorks label printer,